Fresh Kitchen (FK), the popular build-your-own-bowl quick-service restaurant concept, will open its latest Central Florida location in Winter Garden, just minutes from bustling downtown Orlando. The restaurant is set open its doors Tuesday, June 7, 2022 for both lunch and dinner as well as take-out orders and group catering. Known for their cheeky and artist inspired designs, their newest location in Winter Garden will reveal the brand's most up to date look and feel.
FK reimagined fast food when they opened their first restaurant to overwhelming success in Tampa, Florida's SoHo district in 2014. Fresh Kitchen has a total of 11 locations throughout the state in the greater Tampa Area, Central Florida and South Florida. Their most recent location, Gainesville, opened in March 2022. Later this year, they will continue their expansion with an additional restaurant in midtown Miami and a location in Lakeland is also planned for early 2023.
FK Brand President Steven Lanza says of the brand's expansion into Winter Garden, "Fresh Kitchen's purpose to share love through fresh experiences is the reason behind our growth and evolution. Our primary goal is to make people feel good by offering clean, high-quality food that is both affordable and convenient in an environment that feels fun and welcoming. We also strive to use our business to do more good in the communities where we live and work, whether it's creating a great place to work, supporting local organizations or finding ways to do better for the planet. After seeing such success in the downtown area and east Orlando, we are so excited to be able to share even more love with the Central Florida community."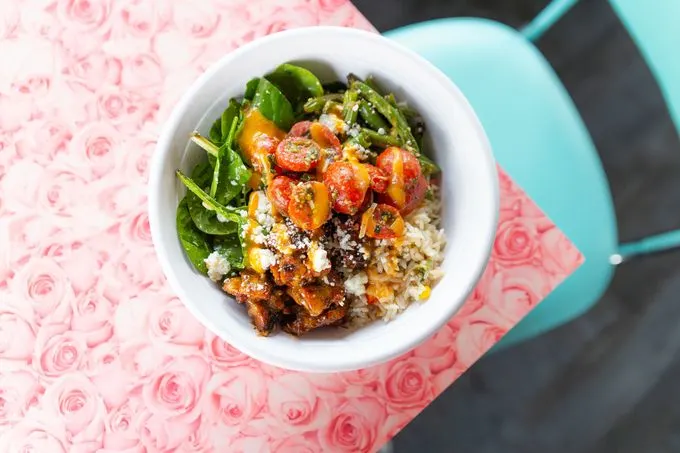 FK invites guests to build their own chef-inspired bowls "as fast as they can point." Made from scratch and fresh-to-order, guests can choose from seasonal ingredients including fresh greens, sweet potato noodles, perfectly seasoned rice, roasted veggies, hormone and antibiotic-free grilled meats, responsibly sourced salmon, home-made sauces, and flavorful add-ons. All their veggies are cut in house daily, and the entire menu is 100 percent gluten-free with vegan options available. As part of their unwavering commitment to their food ethos, all food is prepared using pure olive oil, a nutrient-friendly, heart-healthy, anti-inflammatory alternative to the more frequently used canola oil, which is often genetically modified and highly processed.
Bowls range from $11.99 for a Six Bowl (two bases, two veggies, two proteins, one add-on, one sauce) to $9.29 for a Four Bowl (two bases, one veggie, one protein, one add-on, one sauce), and $7.99 for a Kid's Bowl (one base, one veggie, one protein, one add-on, one sauce).
Freshly brewed teas, lightly sweetened juice frescas, and juices are prepared in-house daily and complemented by cane sugar craft sodas. Treat yourself with gluten-free, paleo-friendly dessert, Chocolate Chip Cookies. FK also offers convenient catering options such as individual catering bowls and shareable meals like the Family Meal (feeds four for $45) or Feast Meal (feeds eight for $85.) Their catering meals are perfect for businesses and sports teams, as well as families looking to make meal prep easy.
Philanthropy and sustainability have always been part of the FK mission and they are pleased to partner with Fleet Farming, a non-profit urban agriculture program that encourages Americans to grow their own produce through micro farming and edible gardens, for the opening of the Winter Garden location. Through this partnership, their goal is to build an edible garden for Sunridge Middle School (a local Winter Garden Public School) which students and teachers will be able to use as part of their STEM teaching and learning curriculum. The Fleet Farming program exists as part of Ideas for Us, a 501(c)(3) grassroots non-profit organization and accredited NGO of the United Nations, which creates global environmental solutions through local action related to energy, water, food, waste, and ecology. This partnership marks FK's ongoing investment in sustainable practices that impact positive change in the food industry.
Fresh Kitchen Winter Garden will be located at 3337 Daniels Rd Suite 120, Winter Garden, FL 34787, and will be open Monday through Saturday from 11 a.m. to 9:35 p.m., and Sunday from 11 a.m. to 9:05 p.m. The restaurant can be reached by phone at (407) 287-5480. Once open, you can place a catering order, by calling (407) 319-0402.