Tijuana Flats is bringing the heat by announcing its "Make it Mega" summer catering promotion.
The Orlando, Florida-based Tex-Mex Original announced that guests who order a Mega DIY Bar for 10+ people will receive free drinks and dessert when they use the code SUMMER23 from Monday, June 26th through Thursday, August 31st.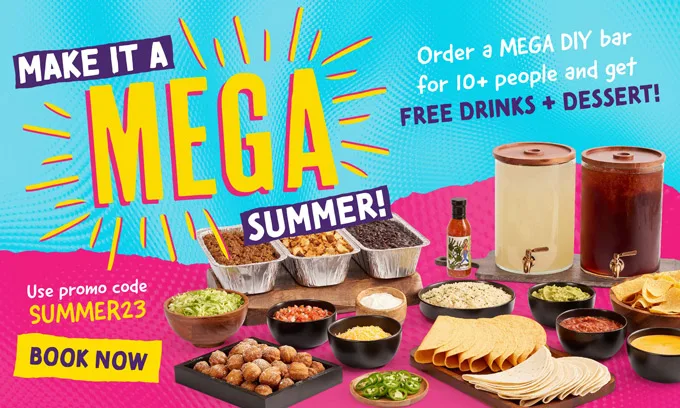 The Mega DIY Bar includes:
Choice of tacos, burrito bowls, or salads (with choice of protein)
Side of cilantro lime rice and beans
Megajuana Trio (chips, salsa, guacamole, and queso)
Bottle of signature hot sauce
Dessert Platter (cookie dough flautas and churro bites)
Choice of gallon beverage (iced tea, lemonade, or Coke products)
The offer is available while supplies last at participating locations.
No substitutions or additional exclusions may apply. Offer available online for curbside pick-up, to-go, or delivery. Guests must use promo code SUMMER23 or mention the offer to receive.
Visit tijuanaflats.com/offer-terms for full promotion details.
When: Monday June 26 – Thursday August 31, 2023
How: Use promo code SUMMER23 when ordering online at catering.tijuanaflats.com, over the phone (844) 483-5287 or in-person at your local Tijuana Flats location.