In celebration of National Ceviche Day 2022 on June 28, guests can enjoy their favorite selections from such concepts like La Mar, Casa Mariano, COTE, among others in South Florida.
The exceptional Doral eatery by Mariano Araya offers a fabulous selection of dishes from the sea with a Latin-Mediterranean influence. Chef Araya's Seafood Corvina Ceviche is available daily and is made with rocoto leche de tigre, sweet potato, and crispy corn ($20).
This National Ceviche Day 2022, enjoy MICHELIN-starred COTE's Miami's ode to the city's Latin and South American influences with their COTE "Ceviche" ($29). Made with Madai, cobia, kampachi, and trout roe with thinly sliced pickled fennel and chojang vinaigrette, this Miami-exclusive dish is available on the dinner menu.
In honor of the holiday and La Mar's signature dish, Executive Chef Diego Oka of La Mar by Gaston Acurio has created a limited time only Ceviche Experience, featuring a sampling of the following ceviches: Al olivo-Spanish octopus, Peruvian Botija olive sauce, chimichurri, roasted piquillo peppers, and avocado; Cebiche Chalaco-grouper, shrimp, octopus, crispy calamari, sweet potato, choclo, cancha, and spicy leche de tigre; Cebiche Chifa-Peruvian trout, sesame oil, crispy noodles, pickle veggies, cilantro, and peanuts; and Tiradito Criollo-thinly slice fluke, aji amarillo cream, choclo, and olive oil. Available from June 28th through Sunday, July 3.
There's no better way to celebrate the holiday than to feast on La Cañita's new Tropical Ceviche ($18) with Corvina, yellow Peruvian peppers and passion fruit, while dining waterside at the Caribbean-Latin American concept-driven restaurant from James Beard Award-winning chef Michelle Bernstein and partner David Martinez, located in Bayside Marketplace. With spectacular waterfront views of Miami and live music curated throughout the week, La Cañita is certainly the place to be for big bold flavors, fun specialty cocktails, and the overall quintessential Miami experience!
Miami's favorite brasserie-style restaurant and raw bar serving sushi, open fire-grilled flare and globally inspired plates invites you to celebrate National Ceviche Day with their refreshing Shrimp Ceviche ($16) with jumbo shrimp, mango, celery, cucumber, red onion, passion fruit ají and cassava chips.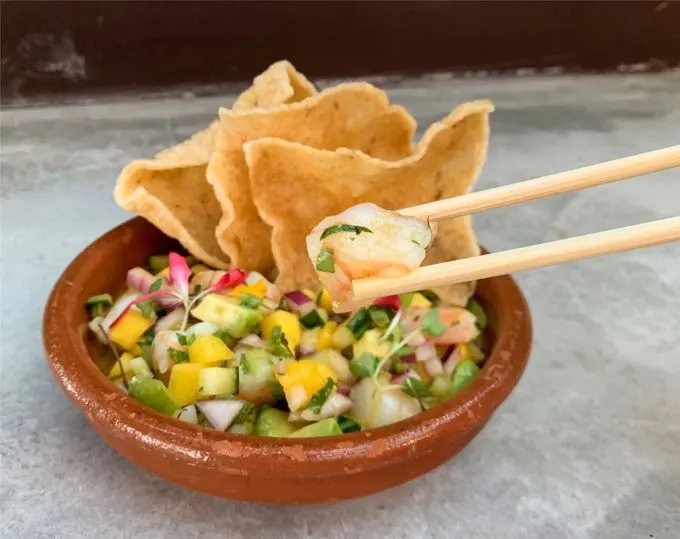 The hidden gem located in the Buena Vista neighborhood just north of the Design District features a broad range of Asian comfort food, street fare and sushi. Shokudo's Manila Ceviche ($19) is a locals' favorite with white fish, coconut milk, mango, tomato, onion, jalapeno, wonton chips.
The Katherine, Chef Timon Balloo's newest concept located in the heart of Fort Lauderdale features a refreshing Ceviche dish with Corvina, sweet potato, passion fruit and lime.