LEKU, the internationally lauded establishment known for bringing the pleasures of eating in Spain's enchanting Côte Basque to Miami, kicks off the spring season with the exciting announcement of the appointment of Carlos García as Executive Chef.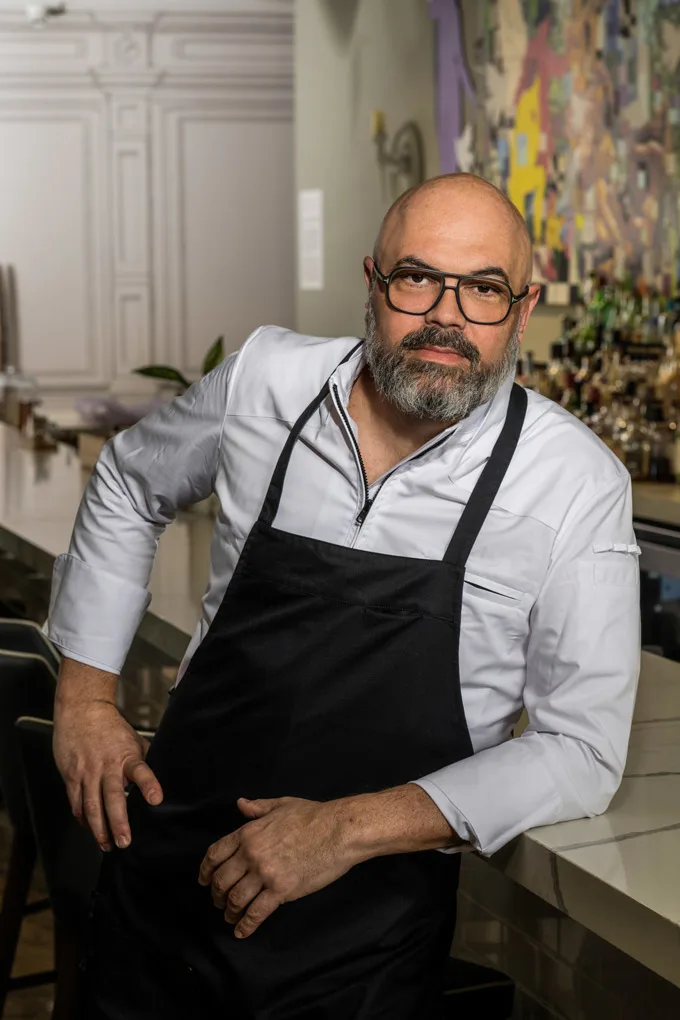 García will be leading the creative culinary team in menu development and operations at the premier dining destination, which was recognized by the 2022 MICHELIN Guide and acknowledged with the winning title of Wine Spectator's 2022 Award of Excellence.
Born in Caracas, Venezuela, Chef Carlos García attended and graduated from the Hofmann School of Hospitality in Barcelona, Spain.
Co-owner of the award-winning, internationally acclaimed restaurant Alto (located in the Venezuelan capital) since 2007, García's early experience included several internships in multiple renowned restaurants, including three of the most famous Michelin-starred in Spain, El Bulli, El Celler de Can Roca and Mugaritz, one of the most celebrated and internationally recognized Basque restaurants in San Sebastián.
When the prestigious "The World's 50 Best" list premiered its Latin American chapter, Alto won The Best Restaurant in Venezuela, earning the 25th spot from 2013-2016 and the 43rd spot in 2021.
Additionally, García was awarded the winner of the Estrella Damm Chefs' Choice Award 2018 for Alto by Latin America's 50 Best Restaurants.
In the fall of 2017, García opened Obra Kitchen Table in Miami's downtown Brickell neighborhood.
This Latin American concept with international influences offered homemade dishes with flavors from Chile, Peru, Argentina, Brazil, Venezuela, Colombia, and Mexico.
After shuttering Obra's doors as a result of the COVID-19 pandemic, Garcia took time to regroup with his family before joining the China Grill Management culinary team and LEKU, where he now leads the team with his extraordinary creative vision and inimitable culinary skills.
Garcia's approach to cooking will be on full display beginning this month as the celebrated Basque-style concept, nestled in the industrial-style surroundings of the Rubell Museum in Miami's artsy Allapattah neighborhood, presents an extraordinary array of delicious new menu dishes.
Among these new offerings are Tartaleta De Foie Gras y Cacao, Foie gras tart dusted with rich cocoa; Pan Cristal + Mantequilla Ahumada, Grilled crystal bread served with housemade smoked butter; Lechuga, Mojama y Aliño De Pimientos y Tomate, Salanova green butter lettuce mixed with red pepper and tomato dressing with basil emulsion, topped with their in-house dry-aged tuna belly; Cochinillo Crujiente con Piperade Ahumada, Crispy confit suckling pig with smoked piperade; Bacalao Confitado Con Acelgas y Pil Pil De Cebollino, Cod Confit wrapped in Swiss Chard and Chive Pil Pil; and Arroz Negro a la Brasa, Mussel and Clam Black Rice.
To complement the meal, new hearty vegetable sides will be added to the menu, including Alcachofas Con Pure De Guisantes y Txakoli, Artichokes with green peas & txakoli; Hongos Silvestres con Salsa Romesco, Wild mushrooms in a delicious romesco sauce; and Coliflor Asado, Salsa de Espinacas a La Catalana, Roasted cauliflower, spinach Catalan and pine nuts.
Additionally, The Grill will be a source of constant surprise.
A selection of new Basque Pintxos (tapas) will be available for a quick light lunch, a pre or post-Rubell Museum visit, or even a pre-dinner cocktail and pintxos experience in the Spanish tradition.
Diners seeking a chic evening indulging in many of LEKU's scrumptious new dishes in one delightful sitting can also select from two separate Sharing Experiences (priced at $125 pp for 10 tastings and $175 for 15 tastings).
Wine pairings can be added for $79 pp and $129 pp, respectively.
A new design element to complement LEKU's award-winning wine list features a unique map drawing to help patrons navigate the grape geography throughout the various wine regions of Spain.
Wine enthusiasts can also anticipate newly introduced programming such as the Tempranillo Experience where guests can sip on three premium expressions from the iconic Tempranillo grape (native to Northern Spain).
One grape, three completely different wines.
LEKU's innovative cocktail program is not to be missed with elegant nods to beloved classic recipes, as well as inventive concoctions combining the freshest ingredients.
Signature highlights include the Iberian Harmony, which combines whisky from the Macallan Harmony Collection, creme de cacao, Pedro Ximenez sherry, and orange molé bitters, topped off with a slice of 5 Jotas ham and chocolate-covered foie gras acorn; the Gazpacho Maria, E11even vodka, tomato, cucumber, bell pepper, lemon, hot sauce, spices, and salt; and the Tigrea, a tequila-based cocktail made with Lobos Reposado, Select Aperitivo, Pacharan, and orange bitters.
Each one is equally as delicious and refreshing as the last, complementing an overall menu that showcases the culinary team's dedication to fine dining created in the Basque style of presentation and quality.
LEKU is owned by an impressive international group of veteran restaurant and hospitality professionals who understand the level of excellence needed to run a successful fine-dining establishment.
The ownership group includes Jeffrey Chodorow of China Grill Management; Alejandro Muguerza of Le Basque Catering in Miami; Andreas Schreiner of Schreiner Hospitality; Terry Zarikian of the New York and South Beach Wine & Food Festivals, and Mikel Goikolea, formerly of Azurmendi Prêt à Porter.
The Basque cuisine at LEKU follows the guiding principles learned from the fathers of Basque cooking including Juan Mari Arzak (Arzak), Martin Berasategui (Martin Berasategui), Pedro Subijana (Akelarre) and Karlos Arguiñano (Karlos Arguiñano).
These methods have been revisited by a new generation of chefs, such as Eneko Atxa (Azurmendi) and Victor Arguinzoniz (Asador Etxebarri).