Alpareno Restaurant Group is thrilled to announce a partnership with Tripping Animals Brewing Co. for an exclusive ale, "The Forager," now available at all Alpareno restaurants (Orno and Mamey at THesis Hotel Miami and the Michelin Bib Gourmand-awarded Ghee Indian Kitchen) as well as Alpareno's seasonal dinner series "Sundays at the Rancho".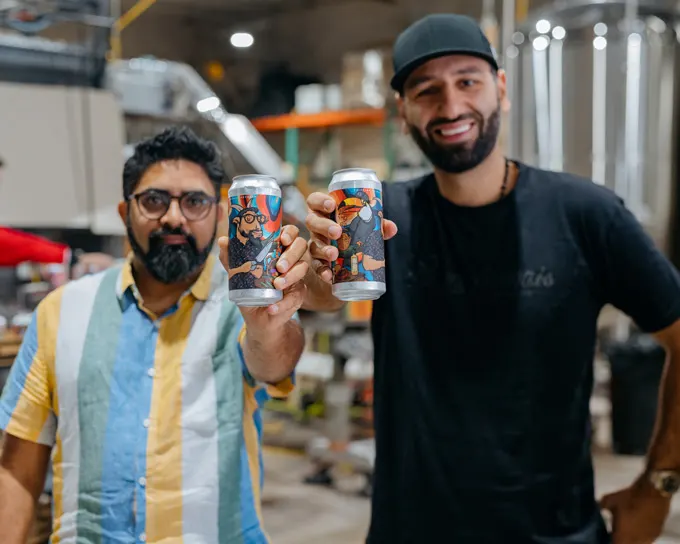 The beer is a passion project for Chef Niven and his collaborator Mohamed "Mo" Alkassar, who spearheaded the partnership with Tripping Animals.
The duo was recently listed as James Beard Award semifinalists in the "Best Restaurateur" category.
The Forager was inspired by Chef Niven, who forages fresh ingredients for Alpareno's restaurants every morning at his Homestead farm, Rancho Patel.
It's also a humorous nickname for Mo, who continually forages food from Alpareno's kitchens during the dinner rush, sampling the latest and greatest specials.
When served The Forager, diners will first notice the unique can, conceptualized by Chef Niven and Mo who are creatively illustrated by Tripping Animals Art Director, David Leon as "tripping" animals.
Chef Niven is pictured as a tripping goat, holding a knife and sporting the floral shirt he wears regularly.
Mo is depicted as a vivacious tucan snacking on chanterelle mushrooms that they forage in Coral Gables.
The restaurants are also represented in the graphic: Mo's hat is adorned with the Orno logo while he's perched above a Mamey fruit.
Ghee Indian Kitchen is represented as marigold flowers, which are prominent during Diwali celebrations. Alpareno's upcoming restaurant, Erba, is represented by the "E" on the label of the olive oil bottle.
Finally, to represent Rancho Patel, there's a farm basket featuring okra, Chef Niven's favorite vegetable.
The Forager is a hazy IPA, which goes through double fermentation, giving it a crisp flavor profile that is easy to drink.
The ale has notes of citrus, cashmere, and amarillo hops, offering a full-bodied beer with a bright finish.
The beer's diverse flavors pair perfectly with menu items from all three Alpareno restaurants and the prix fixe menus served during special events at Rancho Patel.
According to Chef Niven, The Forager goes best with Mamey's Prince Edward Island Mussels, Conch Fritters, and Ceviche; Orno's Sunray Venus Clam Bucatini, Rancho Shikou Eggplant, and Whole Grilled Branzino; and Ghee's Chicken Tikka Masala, Spicy Papaya Salad, and Ghost Pepper Cheddar Naan.
The Forager is available for $14 per can at all Alpareno restaurants and served at Rancho Patel during special events.
It is priced at $8 during happy hour at Mamey on the 3rd rooftop at THesis Hotel, available daily from 3–6 p.m.
For more information on Alpareno Restaurant Group and Chef Niven and Mo, visit alpareno.com.