The Hidden Garden is excited to announce the launch of its brand new ITB (In the Biz) program for 2023.
This new initiative offers an exclusive 50% discount on all bar tabs to anyone who works in the hospitality industry.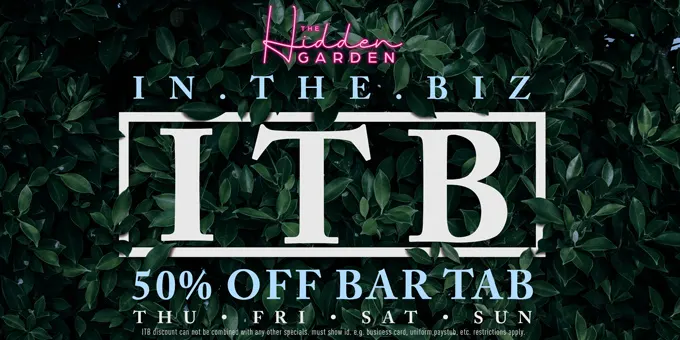 The Hidden Garden's new ITB Program is available on Thursday, Friday, and Saturday nights from 8 pm to 2 am, as well as on Sundays during brunch, which starts at 11:30 am and ends at 3 pm.
This provides ample opportunities for industry professionals to take a break from their busy schedules, unwind, and socialize with their peers in a whimsical adult wonderland located in the heart of Fort Lauderdale's Las Olas Blvd.
To enjoy the 50% discount on bar tabs, ITB professionals can easily bring their business cards, and pay stubs, or come in uniform.
The Hidden Garden's ITB program is a testament to its commitment to supporting those who work in the hospitality industry.
The program is aimed at recognizing and appreciating the hard work and dedication of those who work in the industry and support our communities.
The ITB 50% discount program is a special promotion that offers a significant discount to eligible customers and service providers in our community.
However, it's important to note that there are certain exceptions to this discount. Specifically, the ITB discount does not apply to any current promotions or specials including the $99 bottle specials or the two-for-one drink promotion.
The Hidden Garden is known for its out-of-the-box decor, innovative cocktails, delicious menu items, and welcoming environment.
The kitchen is open late and the bar is a popular spot for locals and visitors alike as it quickly becomes the go-to destination for those looking for a fun and unique experience.
For more information on the Hidden Garden's new ITB Program, please visit https://1309elasolas.com/the-hidden-garden/whats-happening/in-the-biz/ or call 754-200-6344